Archaeology Symposium: Hidden Histories
March 6 @ 10:00 am

-

4:00 pm

FREE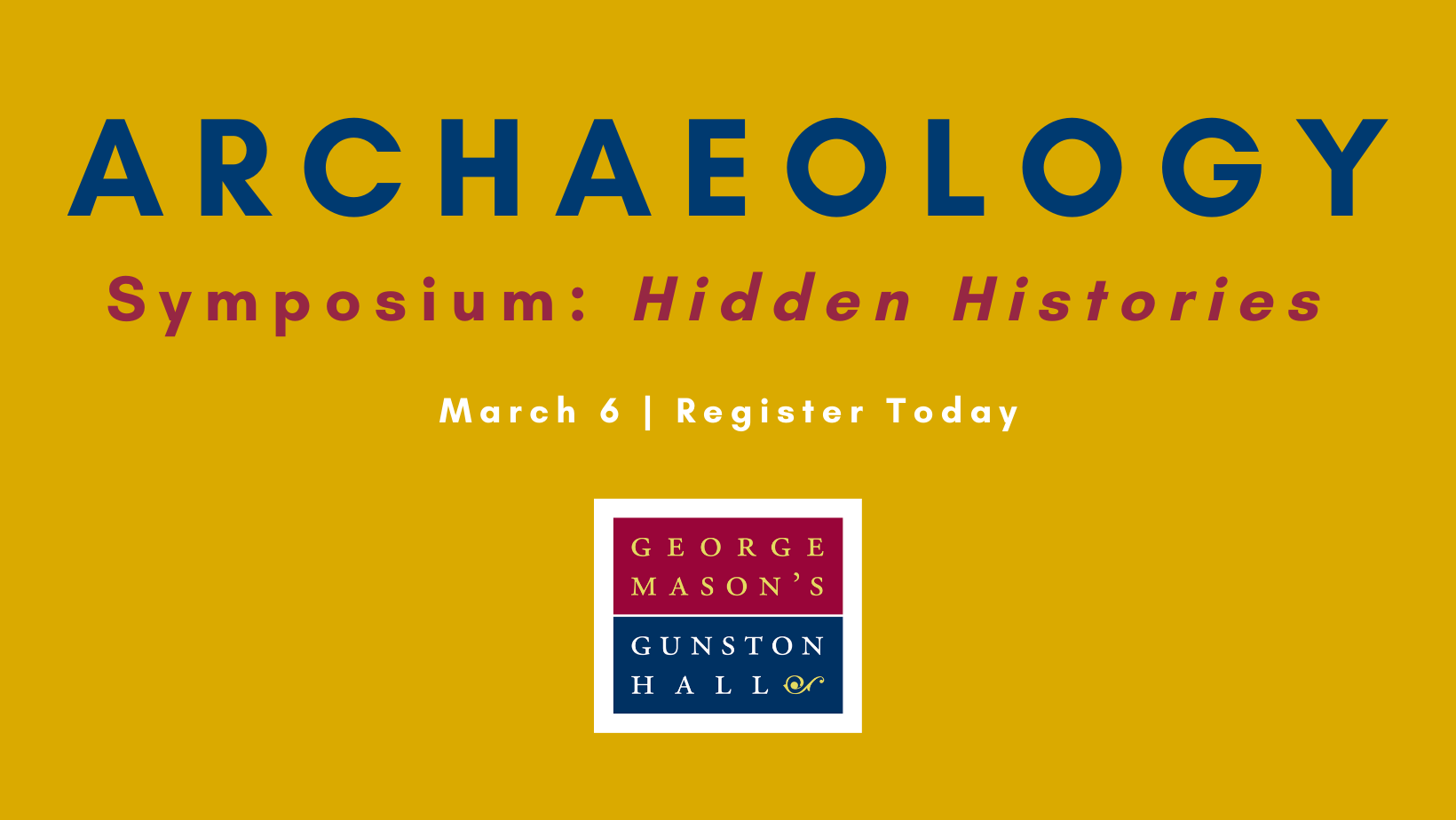 Stories are lost to time for many reasons.  They do not get written down, accounts get lost, artifacts disappear, buildings are torn down, oral tradition forgets them, the landscape has changed.  Archaeology can help!  
Join us on Saturday, March 6 for four presentations that bring to light stories long hidden from sight.  From shipwrecks to enslaved people who left little written record, to structures long gone, to stories simply forgotten, there is something for everyone in this program!
The four talks will be divided between two Zoom sessions.  
The symposium is jointly sponsored by Gunston Hall, Fairfax County Archaeology and Cultural Resources, and the Friends of Fairfax Archaeology.
10 a.m. Session
Virginia's waterways hide many marine archaeology sites, from now-flooded Native American home locations to 20th century shipwrecks.  Brendan Burke will take us on a tour of just a few during his talk: "Tendrils of Trade: An Archaeological Perspective on Historic Inland Maritime Commerce in Virginia."
Molly Kerr, Founding Director of History Revealed, Inc., will show us how she has taken seemingly dry accounting records to discover sophisticated stories of people and trade/rich stories of life in Colchester, Virginia, in the last decades of the 18th century.  Don't miss her talk , "Shopping Stories: Seeking Transportation in an 18th-Century Ledger."
2 p.m. Session
The stories of people who were enslaved are often obscured in traditional historical sources such as letters, diaries, and legal documents. , But archaeological evidence can provide more clues.   Sean Devlin, Curator of Archaeological Collections at Mount Vernon, will share what he and his colleagues have learned about people held in bondage by the Washingtons during his talk "An Archaeology of Enslaved Lives at George Washington's Mount Vernon."
Henry Ward, Supervising Archaeologist at WSP, will uncover for us the mysteries of a lost plantation with his talk: "Revisiting National Airport's Abingdon Plantation Site: Stepping out of the Shadows."  Abdingon, once home of the Alexander family, currently lies in ruins on the site of Ronald Reagan Washington National Airport.
Field Trip
As coronavirus regulations permit, the symposium sponsors  will offer a field trip to the ruins of Abingdon at Washington National Airport on Saturday, May1, at 11 a.m. Henry Ward, a veteran of the archaeological dig at Abingdon, will be our guide.
Participants in the symposium on March 6 will receive the first opportunity to register for the field trip following that event.  Space will be limited.
$5 suggested donation per person for the field trip.