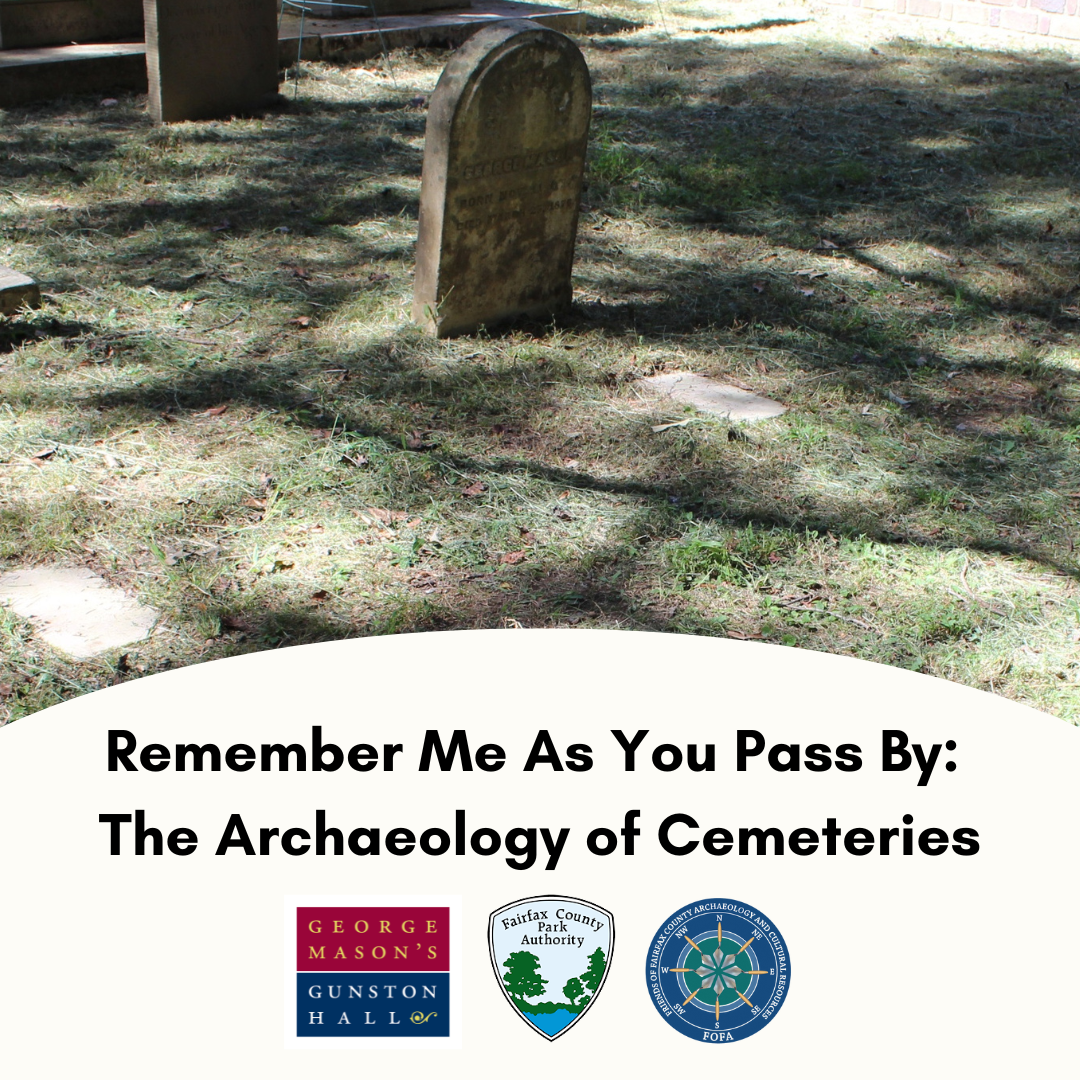 Remember Me When You Pass By: The Archaeology of Cemeteries
At this year's Archaeology Symposium, we will explore the archaeological research taking place in graveyards, cemeteries, and burial grounds.  Join us for a day-long event to hear from the region's experts. Topics will range from historically black burying ground to how technology makes cemeteries easier to research and find.  Speakers this year include:
Reflectance Transformation Imaging Use in Grave Marker 
Kurt Fredrickson, Member, Archaeological Society of Virginia
Hidden No Longer: The Archeological Study of Williamsburg's First Baptist Church Cemetery
Jack Gary, Director of Archaeology, Colonial Williamsburg Foundation
Documenting Neglected Historic Cemeteries around Richmond, Virginia using Cost-effective 3-D Tools
Bernard K. Means, Assistant Professor of Archaeology, Virginia Commonwealth University
The "Undisappearing" of The Shockoe Hill African Burying Ground
L. Daniel Mouer, Virginia Commonwealth University, Retired
The Ratcliffe Cemetery and Calloway Methodist Church Cemetery: Case Studies in Hand Probing to Find Graves and Markers
Patrick O'Neil, President, Archaeological Society of Virginia
Grave Misunderstandings: Purpose and Progress of the Fairfax County Cemetery Re-Survey
Aimee Wells, Senior Archaeologist, Fairfax County
The experience will also include an opportunity to explore the burying ground at Gunston Hall with staff archaeologist, David Shonyo.
This event offered in partnership by Fairfax County Park Authority, Archaeology and Collections Branch; Friends of Fairfax Archaeology; and Gunston Hall.
Advanced tickets for this symposium are available until 5 p.m. on Friday, March 3, 2023.  Your ticket includes either in person or online participation in the event.  If you are interested in joining us in person and would like for us to purchase lunch for you, please select that option when you purchase your tickets.  Tickets purchased on the day of the event will not include lunch.
Individual $15
Members of FOFA and Gunston Hall $10
Lunch $15
Scholarships available for students.  Write to historic@gunstonhall.org for more information.