Since Gunston Hall opened as a museum in the 1950s, volunteers have played an important role in bringing the site to life. Currently, volunteers at Gunston Hall help both behind-the-scenes, with the public, and at the archaeological dig site.
Young Historical Interpreters must be between 8 and 16 years old. All other volunteers must be at least 16 years old.
To begin the process to join the Gunston Hall team, please complete a volunteer application. Next, someone from the staff will contact you to schedule an interview.
Garden Volunteer Opportunities
Garden Tending
Indulge your love of the outdoors by helping in the Gunston Hall riverside garden.  Garden volunteers support the riverside garden project year round.  During the spring, summer and fall, you might take part in planting, harvesting, weeding, deadheading, and more.  During the winter, contribute to preparations for the upcoming cultivation year.  Shifts are available Monday through Saturday.
Food Donation
Support Gunston Hall's food donation program by delivering food harvested from the riverside garden to the food bank at the Lorton Community Action Center.  Each week, you will pick up produce at Gunston Hall and drop it off at LCAC's food bank.  This activity happens on Tuesdays throughout the growing season.
Behind-the-Scenes Volunteer Opportunities
Education
Help create meaningful experiences for Gunston Hall's visitors. As an education volunteer, you might plan and set up for special events, develop activities for family programs, work on social media projects, prepare materials for teachers, and help with logistics for public programs. This activity is available on weekdays and Saturdays. Training is arranged on an individual basis.
Exhibits
Put your talents to work to support exhibitions at Gunston Hall.  Exhibits volunteers can assist with background research, help fabricate exhibition components, write object labels, and participate in exhibition installation. Volunteers with carpentry skills are a great help in exhibitions work. Plus, there are lots of opportunities to paint!  This activity is available on weekdays. Training is made available on an individual basis.
Garden
Help plant our newly restored Riverside Garden!  Discover what plants 18th-century Virginians favored.  Garden volunteers are some of the first people to spend time in the new space. These volunteers help plant, weed, and otherwise tend the flowers, vegetables, shrubs, and trees that make up the design. This activity is available on weekdays. Training is offered on an individual basis.
Library and Archives
Volunteers help answer researcher questions, process material, work with the collections database, read historical documents, and contribute to historical research projects. This is a weekday activity. Training is arranged on an individual basis.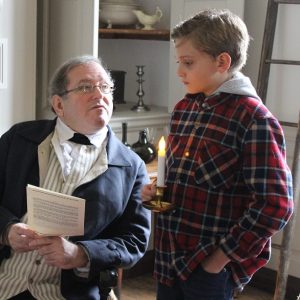 Volunteer Opportunities to Work with the Public
Docents
Help make history come alive for elementary, middle, and high school students.  Volunteer docents lead interactive tours, helping students explore the mansion, the kitchen yard, and the schoolhouse. Hearth cooking, storytelling, and costumed character portrayals are all options for docents.
This activity usually occurs on weekday mornings.  Training occurs once every 12 to 18 months, with the next training course scheduled to begin in early 2023. Docents also become members of the Gunston Hall Docents' Association, and through that group, they have the opportunity to participate in monthly enrichment programs.
Living Historians
Take the chance to become someone else by volunteering as a historic character.  Living history volunteers dress in period clothing and portray actual or fictional personages from the 18th century who relate in some way to Gunston Hall and George Mason. These devoted students of the 18th century introduce visitors to life and politics during the era of the Revolution.  This activity is available on weekdays and weekends throughout the year. Training is arranged on an individual basis.
Young Historic Interpreters
Volunteers between the ages of 8 and 18 help others learn about history. Students learn about life in the 18th century and how to make it interesting for visitors. They dress in historical costume and demonstrate activities of everyday life during the Revolutionary period. This activity is available on summer weekdays and weekends throughout the year. Volunteers participate in training workshops before they get started and in periodic enrichment workshops.
For more information about how to apply, please visit the Youth Volunteering page.
Archaeology Volunteer Opportunities
Volunteers help in the field, uncovering history by methodically searching for historical objects buried on the Gunston Hall property. Volunteers also help process items discovered at the dig site. Archaeology volunteers work under the supervision of the staff archaeologist.
This activity is available Tuesday through Saturday, between the hours of 9:30 a.m. and 4 p.m. Volunteers choose their own hours and may help for a partial day, full day, or more than one day a week. The field season runs from the first part of April until mid December. The remainder of the year is spent processing artifacts in the archaeology lab. Training is on-the-job, and all equipment is provided.