Young Historic Interpreters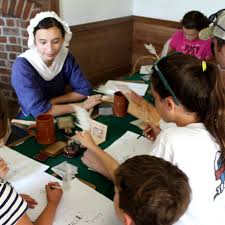 Volunteers between the pages of 8 and 14 help visitors learn about 18th-century life by living it!
Young Historic Interpreters participate in monthly meetings, during which the exclusive group receives hands-on training about food, games, and even politics of the past. They also learn how to speak with the public and give fun tours.  They should also plan to participate in a number of weekend programs during the school year and week days in the summer.
During special programs Young Historic Interpreters dress in historical costume and demonstrate everyday activities from our nation's earliest days.
Are you ready to apply? Join the Gunston Hall Team by filling out the youth volunteer application, and submit it to:
Rebecca Martin
rebecca.martin@gunstonhall.org
Once received, a staff member at Gunston Hall will contact you to schedule an interview.